(To catch the upcoming March weekly digests as I churn them out, please check out my Ko-fi page!)
W E E K 0 0 5
☞ Saw Striptease (with Demi Moore) on Netflix. Truly, I am running out of 90s comedies to binge on this site….
☞ Finished the second season of Lovesick. I like how the show's characters were now more fleshed out, though the constant flashback-and-forth to the present day was still dizzying. What is time anyway, though, right?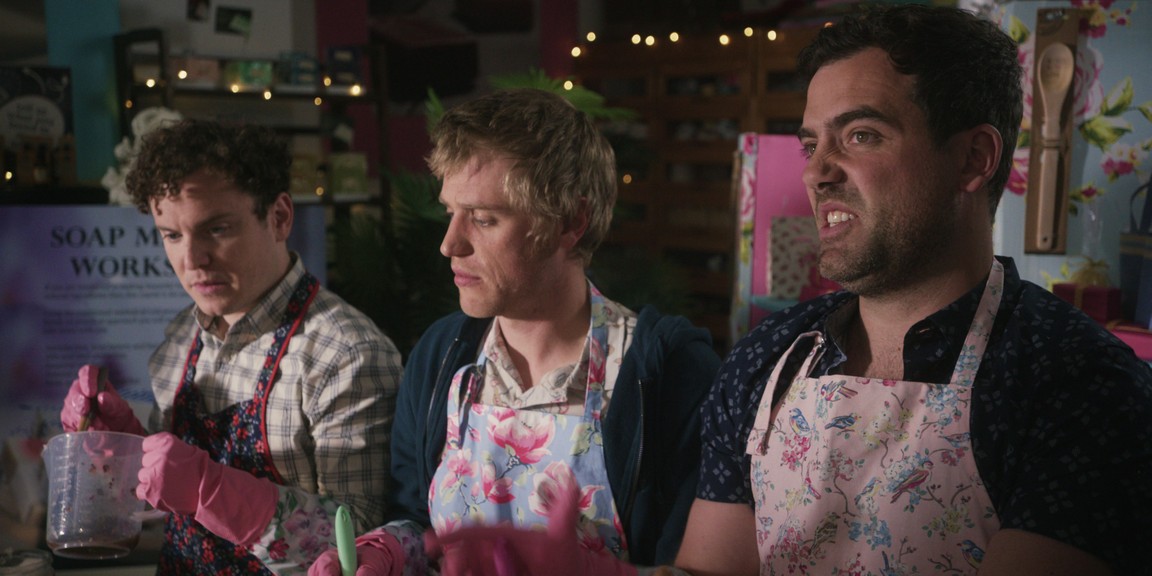 ☞ Downloaded a mobile puzzle game called Cryptogram Tale, where poems and short stories have been encrypted via substitution cipher, and players have to decode passages sentence by sentence. It's a decent way to kill time (see above sentiment), but not a recommended means of consuming a literary work for the first time. After 2 hours of playing, I think I'm still 10 sentences into Kurt Vonnegut's "2 B R 0 2 B."
☞ Shed the Potterhead personality trait that I carried for nearly two decades, and made it official by dropping the "Pottermore" fandom role in our Discord book club server. I am now toying with the idea of writing an entire blog post on the internal struggle leading up to that decision, but torn about whether or not to make a big deal out of it. — 8 February 2021
N.B. There is to be no grand reflection write-up after all. When it finally sank in that I had denounced Harry Potter and shed a personality trait that I had carried for nearly two decades, I was very disoriented at first. Altering one's personality is no trivial matter. In hindsight, the universe had been sending signs pointing to that moment, but what sealed the deal was this The Cut article.
W E E K 0 0 6
☞ Clocked my 420th hour on Stardew Valley. Yes, I stopped playing when I reached 420 hours to take the necessary screenshots. It only seemed the mature thing to do.
☞ Unabashedly read The Bridgertons: Happily Ever After, which is a collection of second epilogues for Julia Quinn's 8-volume Bridgerton series. Second epilogues are an interesting idea for a romance anthology; I've read my fair share of romance series to the point of supersaturation, and I don't see enough books like this. Towards the end of the collection was a note on the writing of romance books, which I found rose-colored but sensible from a writer's point of view all the same:
Romance novels, by definition, wrap up neatly. The hero and heroine have pledged their love, and it is clear that this happy ending will be forever. This means, however, that an author can't write a true sequel; if I brought back the same hero and heroine from a previous book, I'd have to put the previous happy ending in jeopardy before assuring them of another. So romance series are instead collections of spin-offs, with secondary characters returning to star in their own novels. . . . (emphasis mine)
☞ Plowed through three different adaptations of Jane Austen's Emma: the 2020 film with Anya Taylor-Joy, the 1996 theatrical version with Gwyneth Paltrow, and the 1996 TV version with Kate Beckinsale, in that order. It was an unusual marathon to undertake, resulting in these Letterboxd reviews; not the worst way to spend the Chinese New Year weekend, I thought. When my partner spotted me picking up the book after the marathon, though, I think he wasn't sure whether to laugh or cry or feel sorry for me. — 15 February 2021
W E E K 0 0 7
☞ Finally reached the end of the Broken Earth trilogy by N.K. Jemisin. My first conscious foray into SFF that was finally more SF than F was half a year in the making — though to my surprise, it was the series' emotional heft that hampered me more than its intellectual demands. The story was so bleak, until suddenly it wasn't anymore. I look forward to rereading the entire trilogy and unpacking its many, many layers of narratives. The hurtful parts will no longer hurt since I've barrelled through them before, right? . . . . Right?
☞ Found time to finish and ponder on Kurt Vonnegut's "2 B R 0 2 B," that short story I was decoding on the game Cryptogram Tale. I couldn't help but compare it to the Arc of a Scythe trilogy I read last month. Both works take place in a world where immortality is practically a norm, population growth is curbed for the greater good, and death has therefore taken on a premeditated quality. While the Arc of a Scythe examines death from the perspective of figures who actively inflict it on others, though, "2 B R 0 2 B" examines death via a society that actively schedules it for themselves. I also have to say, having to decode and read the Vonnegut story sentence by sentence did wonders for my reading comprehension.
☞ Breezed through the third and final season of Lovesick on Netflix, but not before deciding that Luke is my favorite character in the entire show. He was always far more sexually responsible than Dylan, and had a better way with French expressions. (Surprisingly, Angus ended up being my second favorite character.) Dylan, for his part, at least had more insightful dialogue this season, such as "How can you love someone entirely when you can't know them entirely?" and "Lots of our friends get excited about tableware these days."
☞ Attended the first of the History Lecture Series hosted this year by Ateneo de Manila University. This lecture was entitled "Sakuna: Isang Leksikograpiyang Pangkasaysayan sa Wikang Tagalog," and it was given over Zoom by one of my more memorable college professors, Dr. Francis A. Gealogo. The highlight of that talk was Doc G taking us through Tagalog lexicons for different shades of weather and disaster in the Philippines. I did have a number of other takeaways, and putting them into words was good exercise for my writing muscles. All in all, it was a worthwhile use of my limited mobile data.
The past week also marked the end of the third quarter of the school year — hooray! My students (bless them) and I just need to power through ten more weeks, and we're cleared for summer break! — 22 February 2021
W E E K 0 0 8
☞ Became briefly addicted to this mobile game called Godus, which was designed by Peter Molyneux, the guy who popularized the "god game" genre in the late 1980s. The game's premise is simple: you are a god whose power comes from the belief generated when you make the in-game humans happy. The graphics were exquisite, but I soon stopped playing, because the gameplay involves "sculpting" terrain which proved difficult to do on a small touchscreen.
☞ Watched the much-discussed I Care A Lot on Netflix. Rosamund Pike has truly mastered playing the unhinged but empowered female lead. The only real disappointment was the film's third act. The ending itself was a healthy dose of dramatic irony, but the path towards that ending was paved with bad montages and dialogue.
☞ Also finished the second season of Hilda and binged the first season of Mismatched, my first Indian Netflix series. Literally the entire cast of Mismatched looked great and had believable chemistry onscreen — but the show itself seemed unsure about what it really wanted to say about disability, sexism in gaming, and class divide. Exploring multiple characters' perspectives the way it did probably would have been effective, though, if each episode was an hour long. Then again, I wouldn't have been able to finish it so quickly, i.e. in between grading my students' projects.
☞ Attended the second virtual lecture in Ateneo's History Lecture Series, this time Dr. Jose Ma. Edito K. Tirol's "EDSA at 35: The Highway of History and the Forks of Memory." Vexing moderator aside, the lecture was a good way to lead up to the 35th anniversary of the People Power Revolution that toppled the Marcos dictatorship. As Sir Jo-Ed is one of my all-time favorite people, it definitely felt good to listen to him teach again. — 28 February 2021
I N O T H E R N E W S . . .
◇ On February 1, Burmese democracy icon Aung San Suu Kyi was placed under house arrest after a military coup erupted in Burma/Myanmar. The coup had stemmed from the military's displeasure with the results of their country's parliamentary elections, which were held last November 2020. In the last few years, Suu Kyi notably had a series of awards revoked after she dropped some controversial takes and ultimately failed to address the Rohingya refugee crisis. Anyway, for those of you wondering why news articles vacillate between the names Burma and Myanmar, here is a Twitter thread on the politics of language in Southeast Asia.
◇ Earlier this month, it was announced that the Bayeux Tapestry has been made fully available online. The tapestry is a very important piece of embroidered cloth spanning nearly 70 meters, dating all the way back to the 11th century. It chronicles the rise of William the Conqueror and the conquest of England in 1066. The digital version is of super-clear resolution that we can see the direction of each fiber of linen.
◇ By this time in March, the Philippines will have been in lockdown for one whole year due to the COVID-19 pandemic. While the national government in the Philippines continues to bluster and show little to no basic human decency in the way it deals with COVID-19, we celebrate triumphs in governance where we can. Last February 23, the United States Department of State recognized Pasig City Mayor Vico Sotto as one of its twelve International Anticorruption Champions. Vico Sotto is one of the most refreshing politicians this country has had in the longest time — and we hope for the day when he is no longer an exception to the norm.
◇ For those of you who have dearly missed being out and about since the lockdowns began, Tree.fm lets users stream "tree songs" from around the world. These songs are preserved sounds of forests from 6 continents that run for about 30 to 60 seconds each. Take my word for it; the website is best enjoyed with one's eyes closed.
☞ Have you tried any of the books, films, shows, and games mentioned in my weekly digests? How did February go in your corner of the world? I'd love to hear from you in the comments!